Services List
Geographical reach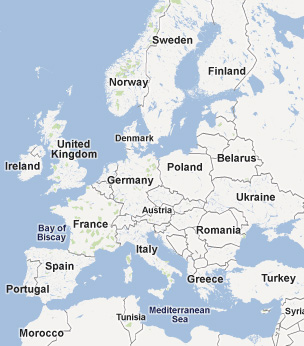 services overview
Inexpensive European Removals from London
European Relocations are specialists in low cost European relocation services. As we see it, there is no reason to bay a high price for your international removal to Europe when you can very easily accomplish the exact same thing at far less a price. By splitting the cost of moving to Europe with someone else from the UK who is going to the same place as you can save at least 50% on your removal bill. All of our removals services are executed on a door to door basis so there is no change in quality of service for having someone else's goods transported as well as your own.
Comprehensive European Moves
Use European Relocations to shift your belongings from London to other countries in the EU. We offer you the choice of booking a fully comprehensive removal with packing, padding and loading if you need it, or you can book basic service to further increase your savings. The loading capacity available for a single booking ranges from 15 to 60 cubic meters. For large removals to Europe you can also book two or more vehicles at the same time.
Luggage Solutions
It can get very expensive and cumbersome to try and move a large volume of items by air freight. You could be paying hundreds to take your heavy luggage on board of the aircraft. Using the European Removals tight network of removal vans you can save money by shipping your luggage over sea and land. You can book collection even for a single suitcase from the UK and delivery to another European country for as little as £50
European Shipping
Our comprehensive moving to Europe can prove particularly attractive to business both small and large alike. Our vehicles have the capacity to transport up to 10 pallets in one go if you need them to. We have a selection of vehicles available to both our business and domestic clients and so have the flexibility to offer the most competitive rates for moving to Europe on the market.
How does it work
Booking the removals from London to Europe is easy.
All of your details including the amount of your items to be moved as well as the start and end destination can be taken over the phone. You will receive a written and itemised quotation very soon after this and this will contain the price for our service and additional supporting information. If the quote is to your liking, we will collect a deposit and will then schedule a vehicle to pick up your items at a time convenient to you.
On the day of your moving to Europe, our professional team will prepare and load all of the required items into the van and will ensure they are safely and securely stowed in the cargo hold. The team will also ensure all fragile items, and anything else requiring extra attention receives all the necessary care. Once the journey is completed and the van is at the destination you specify, the driver will be more than happy to assist you in unloading the vehicle. Once the removal is complete we will email the sales receipt to you.