Moving to Greece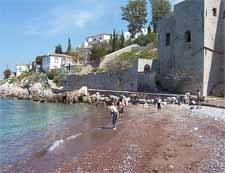 Information about Greece for those who would like to migrate to the country.
When you are moving to Greece, you are moving to an ancient country which is called the cradle of democracy. Anyone moving to Greece is impressed with its vastness - over 1400 islands and a coast to coast length of 10,000 miles. The population is estimated to be about 11 million most of which live in urban areas with high density seen Athens, Thessaloniki and Peloponnisos, besides the islands of Khios and Zakinthos.
Moving to Greece, you are open to a Mediterranean climate which is warm; it is sunny for over 60% of the year. Even during winter, you find the average temperature to be about 30.
People moving to Greece may hear of Demotiki and Katharevousa. These are two variations of the Greek language. The official language of Greece is Modern Greek (Demotiki). The government and most others use Demotiki. Katharevousa, another version is said to be Purist Greek. If you are moving to Greece, you would find that English and French are widely spoken, along with a little Italian and German.
The capital of Greece is Athens. When you are moving to Greece you notice that Athens is well connected to almost all the countries with convenient frequencies and flight schedules. Olympic Airlines is Greece's national carrier which along with Aegean Airlines give good connections within Greece.
When you are moving to Greece, you are two hours ahead of GMT. The official currency of Greece is the Euro (€).
You don't require a work permit if you are an EU national moving to Greece for work. People with an intention of moving to Greece for staying for over 3 months require a residence permit.
Nationals of the UK moving to Greece can get from the local consular office of Greece what is called a "Change of Residence Certificate".  
The personal effects of an EU national moving to Greece are not subject to the customs formalities. In all the EU countries, the rules are the same for the issuing of a PET passport and transporting your pets within the EU.
EU driving licences are valid in Greece. After moving to Greece, if you intend driving you would have to do it on the right. You have to keep a watch on the speed limits which vary between different types of roads.
You can drive your car with your home country registration number plates for a period of 6 months.
If you are moving to Greece with your electrical appliances using 120V, you would need an adapter as you find it to be 220V in Greece.
People moving to Greece are particularly fascinated by certain aspects of local culture and personal and business practices. Knowing people and interactions on a personal level help build trust and confidence- very essential for doing business. If you are moving to Greece, you are advised to be cautious about being informal too soon with your associates and to avoid the use of first names.
When you're ready to relocate, click here to book your removal to Greece.
If you are relocating to Greece, you find getting an accommodation slightly difficult (though not impossible) because of the concentration of population and business only in certain parts of the country.