Moving To Estonia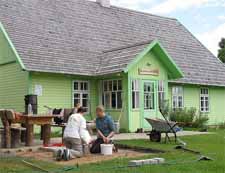 Practical information about Estonia for those intending moving to the country.
Moving to Estonia, you bid goodbye to hugging – only the traditional handshake is normal for an Estonian. It is simply his trait - don't think that he is unfriendly or unhelpful.
Estonia spreads over 45K square km with a population of 1340 million consisting of mainly of Estonians (69%) and Russians (26%).
If you are relocating to Estonia, the fact that about 30% of total population of the Republic lives in the capital city of Tallinn may be of relevance.
Estonian is the official language. If you are moving to Estonia, this need not worry you as Finnish, English, Russian and German are also widely spoken.
UK citizens relocating to Estonia, find it interesting to know that the direct investments of British companies in the Republic exceed 250 millions Euros. Over 600 registered companies are owned by UK either wholly or partly.
If you are moving to Estonia, you will find Euro as the official Estonian currency with effect from the 1st of January 2011.
EU nationals relocating to Estonia by May 2011 and also the citizens of Estonia and the European Union already there receive identity cards with changes as mandated by the EU. Those who are residing in Estonia on a residence permit or a right of residence and are not citizens of the EU will get a residence card in the place of the ID card.
If you are moving to Estonia, you do not need a visa if you are a national of the EU or EEA or a third-country national holding a Schengen residence permit.
A family member of an EU/EEA/EFTA national with a valid passport and a residence card issued mentioning "Residence Card of a Family Member of an EEA National ", does not a visa provided his moving to Estonia is along with or to join the EU/EEA/EFTA national.
The holders of passports of some specified countries moving to Estonia, if their stay does not exceed three months in a 6 month period, do not need a visa.
It is necessary to carry a passport or ID card as the authorities in Schengen states do have the right to check identifying documents.
Family members of an EU national moving to Estonia can rightfully have temporary residence on certain conditions. They are entitled to permanent residence if they have resided in Estonia on temporary residence for five successive years.
A citizen of the EU relocating to Estonia is allowed to work without any work permit for three months. EU citizens and their family members who have the right of residence and are moving to Estonia can there without a work permit
For EU citizens moving to Estonia, the insurance under the original EHIC is valid. However people moving to Estonia on work for a shorter time need to verify the terms of their EHIC.
When you're ready to relocate, click here to book your removal to Estonia.
For a period of twelve months after moving to Estonia, your car need not be registered with the Estonian authorities at their Motor Vehicle Registration Centre.