Moving to Switzerland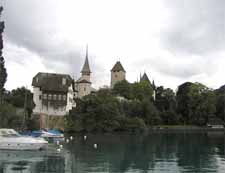 Information about Switzerland including a general immigration policy and what to do before you start moving to this lovely country.
If you are moving to Switzerland it is almost certain that you are impressed that a   large number of international institutions of great repute are present - the Red Cross and the Red Crescent Movement, the United Nations Human Rights Council, the European Broadcasting Union, the United Nations, WHO, World Scout Organization etc.
What is of interest to those moving to Switzerland is that though it is in the midst of many EU nations and approximately 1 million Europeans either live or work in the country, it is not as yet a member of the European Union.
Many foreigners are moving to Switzerland; the number of foreigners resident is over 22% of the population.
If you are moving to Switzerland for employment you should note that
(1) basically there are two streams of processes for getting a residence or work permit in the country,
(2) permits are solely under the discretion and the jurisdiction of the cantons, and
(3) the permits have quantitative caps.
EC nationals moving to Switzerland take one stream of regulations.
Non EC nationals desirous of going to Switzerland go by the second stream of entry rules.
EC Nationals –
If a person is moving to Switzerland without any employment for less than three months (that is, as a tourist), he need not have any residence permit. Beyond that period, he should apply to the cantonal authorities.
This does not apply to the family members of EC nationals who are not themselves of EC nationality and they may have to comply with visa stipulations.
If you are moving to Switzerland to seek employment, you can reside in the country for three months and would get a limited right which is extendable for a shorter duration on certain conditions.
EC nationals have the subjective right to reside and work in Switzerland. Residents wanting to move to Switzerland without work persons must demonstrate sufficient funds and health insurance. This applies to the self-employed too.
The residence permits issued to people moving to Switzerland to pursue employment are not constrained by any canton limitation.
Short-term residence permits issued to those moving to Switzerland will be restricted to 120 consecutive days.
Should your employment is for a 4-12 months duration, the permit is limited to actual the employment period.
If persons moving to Switzerland have an employment for one year or more, they can obtain a Residence permit with a validity of five years; this is only if the person so moving to Switzerland is a salaried employee.
What about those moving to Switzerland from across the borders with employment contracts? They will get what is called Cross-border commuter permit. If their employment contract is for a period up to 12 months, their permit will be valid until the same period. However, if it is for more than 12 months, the validity is five years. In such a case, the Cross-border commuter can even be on self-employment.

When you're ready to relocate, click here to book your removal to Switzerland.
People moving to Switzerland may note that the Schengen visas are acceptable in Switzerland with a limitation of stay up to 90 days counted in a 6 month period.