Moving to Sweden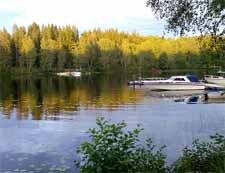 Information about Sweden for those intending to move to this lovely country.
More and more people are moving to Sweden; about 14 % of the population of the country is foreign born. As is normal, most of the immigrants moving to Sweden took up residence in the cities and the other urban centres.
The common perception that is gaining ground among those desirous of moving to Sweden is that it is open not only to the people from the EU but also from many other countries, to take up employment in Sweden. Shortage of skilled personnel and the age wise data of its working population have led to forecasts of further shortage in the required skills and learning. This too makes moving to Sweden a plausible option.
This feeling of welcome is not the sole reason; the advantages for people moving to Sweden are many.
Language poses no problem for foreigners moving to Sweden. About 90% of the people of Sweden speak English. English is a compulsory subject in the schools.
The quality of life made possible with affordable living and supporting labour legislation is a major plus for those moving to Sweden.
Friendly regulations relating to permits and migration enable foreigners moving to Sweden to bring along spouses and children and this is a significant advantage.
EU and North American citizens desirous of moving to Sweden for a three-month stay need no visa and can travel on the basis of their passports alone. For others too visas are not usually required except for those who figure in the list of countries requiring visa for moving to Sweden.
Since Sweden is within the Schengen Agreement, with a Schengen visa (which is normally valid for 90 days in a period of six months), you can consider moving to Sweden. Though a Schengen visa is valid for entry into all the Schengen countries, it may occasionally be only for a stay in the country that issued it.
Working in Sweden
Icelanders and other Nordic citizens moving to Sweden for work can do so without a permit, while those of EEA and EU citizenship, with an employment contract of less than 3 months, can reside and work without a work permit & with a work permit if the employment is longer.
All non-EU/EEA, non-Nordic and non-Swiss citizens who intend moving to Sweden to work need a work permit.
It has been stipulated that people moving to Sweden for work should have an offer of employment duly signed by both the employer and the concerned trade union and this document is a prerequisite for a work permit.
Your spouse and children below 21 can simultaneously apply for a Swedish work and residence permit on approval of which they may also live, work and study in Sweden for period for which you get your approval.
When you're ready to relocate, click here to book your removal to Sweden.
A person moving to Sweden for work has to register with the Swedish Tax Agency. This will enable him to get a Swedish personal identity number. Next, he should apply for a Swedish identity (ID) card. With the registration, he is covered under the Swedish social welfare system.