Removals to Austria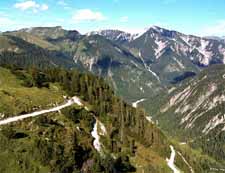 Quick guide for those wanting to move to Austria and don't know where to start
If you have decided on Moving to Austria for any reason, you need to have some basic information. You may explore further if any specific issue relating to Moving to Austria comes up.
It may be of interest to you to know that each year over 0.8 million visitors to Austria are British nationals who are either moving to Austria or visiting it, as per Statistik Austria. If you have any worries about moving to Austria, it will be comforting for you to know that almost all of the 0.8 million visits mentioned above have been reportedly free of any problems; during the one year period ended 31.03.2010, the number of people of British nationality who required any sort of assistance from the consulate in Austria in the period was 0.0054% or 43 in absolute numbers.
When you are moving to Austria for personal/official compulsions, it is heartening to note that there is an active and vibrant cultural scene for native English speakers with drama and films, Austro-British social clubs and associations.

Once you know your fundamentals about moving to Austria, there seems to be no need to panic about it.
First and foremost about moving to Austria is the entry aspect. When you have a valid UK passport, there is no need for you to have residence or work permits, as long as you are a UK national.
When you are moving to Austria, remember that your passport should be either on your person at all times or you should be able to get it in an hour's time and it should be in the same district as you are.
When you are moving to Austria, please bear in mind that within three days of having moved into a residence, you need to register your address (Meldepflicht) at the nearest registration office or Meldeservice. This is called "ANMELDEBESTAETIGUNG" or "ANMELDEBESCHEININGUNG":
If you are moving to Austria, you need to have a personal identification document on you to facilitate unhindered passage within Austria. A European Economic Area (EEA) identity card (EWR Lichtbildausweis) is available and can be applied for. If you like to use a passport copy, have it attested by any British Consulate office.
If you are moving to Austria, you need to note the requirements when you are travelling alone with children. You need to possess documentary evidence of parental responsibility. Please access either the British Embassy in Austria or Austrian Embassy in London to get full information on this.
Moving to Austria calls for your getting what is called EHIC or European Health Insurance Card. But beware; this is not the equivalent of your usual insurance cover for medical and travel.
When you are contemplating moving to Austria, know as to what personal goods and belongings you can take sans VAT or customs duty – e.g. household articles, personal belongings, used personal cars. There are conditions for selling these locally afterwards.
As you are moving to Austria with a personal car, register it in Austria by paying a tax (NoVA). A visit to the website of the Austrian Finance Ministry will be helpful when you are moving to Austria..
It is ok to use your British driving licences in Austria. But when you are moving to Austria and becoming a resident, you need to change your UK number plate of your car to an Austrian one for which you may approach Kfz-Zulassungsstelle. You have to, while on the motorways and 'A' roads, display a sticker (Autobahn-Vignette).
As a part of your moving to Austria, you have taken your car and ask about car insurance- yes,   Haftpflichtversicherung or third party insurance is a prerequisite.
You may like to visit http://www.wien.gv.at/verwaltung/personenwesen for more information about moving to Austria.
Austrian government agency 'help' site  also gives you information useful when you are considering relocation.
When you're ready to relocate, click here to book your removal to Austria.