Moving to Romania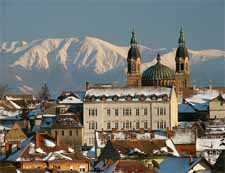 Practical informational about Romania and what to do before moving to this country.
How many people moving to Romania know that the biggest office building in Europe and the second largest in the world is in Romania?
Yes, it is The Palace of Parliament and it is located in Bucharest, the capital of Romania.
Moving to Romania, you are moving to the 12th largest European country.
Romania, which is Central Europe, has an area of 91725 sq miles and about 22 million people.
Nobody moving to Romania can miss to note the difference in the climate in the regions, though by and large it is a temperate climate in the country.
What strikes one from a foreign country moving to Romania are the hospitality and the friendliness of its people.
If you are moving to Romania, you would use the local currency called Romanian Leu (plural "Lei"). You would get approximately 4.23 Lei per Euro or 5.10 Lei per British Pound. You may exchange foreign currencies at banks or "casa de schimb" or "birou de schimb valutar" which is the authorized exchange office.
Anyone moving to Romania can manage with English as many local people especially in cities and towns do understand and reply in English. Yet life will be a lot easier if one were to speak in Romanian.
Literacy rate in Romania is 98%.

If the people moving to Romania are citizens of America, Canada, Australia, New Zealand or of European countries, they do not need an entry visa, provided their stay does not exceed 90 days.
Foreigners from the non-EU countries moving to Romania should possess a passport with validity for a minimum period of six months from the entry-date. It is not compulsory for the EU Citizens to Romania to possess a passport as mentioned as they are allowed with the Identity Card issued in their home country.
If people moving to Romania need to stay for periods of above than 90 days, they have to take a visa.
Citizens of any EU and EEC member state entering Romania with an intention to be employed there may note that they do not need to apply for any type of work authorisation or permit.
If after moving to Romania, you like to drive in the cities and towns of Romania, you need not have a Romanian driving licence if you are a citizen of an EU or of Canada, Australia and New Zealand provided you have the licence of your home country; this applies only for 90 days from the day you entered Romania. Others moving to Romania need to check for the applicable regulations.
If you are moving to Romania you need to have no precautionary vaccinations or immunizations. As Romania supplies most of the natural mineral spring water to the rest of Europe, people moving to Romania find it cheaper to take bottled water all the time.
People moving to Romania and have previously travelled in any EU country, will see that the allowances and rules regarding customs and personal effects are similar.
When you're ready to relocate, click here to book your removal to Romania.
People who are moving to Romania to live there may often wonder if they could take their pets with them. The regulations are similar to those in any EU country, requiring a veterinary certificate, proof of rabies vaccination, etc.