Moving to England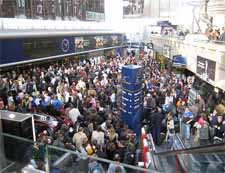 Information about England, life in the country and its immigration policy for those wanting to move to the country.
More people are moving to England and many are becoming British citizens. In 2009, over 200,000 foreign nationals became British citizens. Since 1997, over 1.5 million migrants have been given a passport.
If you are moving to England, you should perhaps be alive to certain sensitivities when you refer to somebody as English or British. After moving to England, you may also note that not every British has to be from England. The lack of understanding of the subtleties arises from the common perception that the words English and British are synonyms and that they are interchangeable.
Moving to England you find that there are others from other parts of Great Britain and that these non-English are also British. Hence, when you are moving to England, you would be circumspect about mentioning the nationalities of people.
The  fact that England is the most populous part the UK ( about 84% of the UK population lives in England)  or that England takes major stretch of the southern of Great Britain need not have to make those moving to England miss the variety and the scope that the other regions of the UK offer.
People moving to England, would certainly not miss the point that on questions of visa, they deal with the UK Borders Agency & UK refers to Great Britain and Northern Ireland.
Most of those moving to England are keen about London. It is the largest city in the UK. It is the capital of the United Kingdom and of England. It is the city which the Royal family has taken as its home. The magic of London is what holds people moving to England under its spell. Not surprising considering the history of the city and its having been the most important single financial centre globally – what is called the London market.
Apart from the capital city (London), people moving to London have other major cities like Birmingham, Leeds, Liverpool, Manchester, Sheffield etc attractive for work and stay.
Not many moving to England would know that the country's administration consists of 27 two-tier counties, 32 London boroughs and 1 City of London or Greater London, 36 metropolitan districts, 56 unitary authorities (including 4 single-tier counties.
People moving to England need to know what exactly is the administration area under which their residence falls.
Moving to England, you may perhaps adjust your watch to the local time and every child knows that the GMT refers to the time in London as well. 
If any of your friends or relatives is moving to England to spend some time with you, you may like to advise them to come between April and September.
People of all faiths consider moving to England as England accommodates people of all religions such as the Church of England, Catholic, Methodist,  Muslim,  Jewish,  Sikh and Hindu to name a few.
When you're ready to relocate, click here to book your removal to England.
With the English language today occupying the most preeminent position among the language by virtue of its being spoken almost everywhere, people considering moving to England do not have to take the trouble of picking up some working vocabulary for the trip or stay or work in England.