Moving to Lithuania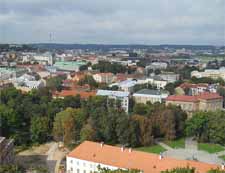 Information about Lithuania and practical tips for those intending to arrange removal to Lithuania.
Lithuania is a member of the EU since May 1, 2004.
The state language in the country is Lithuanian and everything official gets transacted in the Lithuanian language. After moving to Lithuania, you may want to learn the language for day to day convenience.
When you are moving to Lithuania, you can not miss Vilnius, the capital city situated on the banks of the rivers Neris and Vilnia. The Old Town figures in the World Heritage List of UNESCO.
People moving to Lithuania would most certainly fall in love with the cold beet soup for which the country is famous.
When you are moving to Lithuania with an intention to reside there for long, you can not but see potatoes being eaten in various forms – with Cepelinai and pancakes being special among those.
Moving to Lithuania takes you to a country of approximately 3.4 million people spread over 65,300 sq. km.

The climate of Lithuania is oceanic/continental.
Lithuania lies in the zone of GMT + 2 hours.

Moving to Lithuania, you would notice that over 83% of the population is of Lithuanian ethnicity.
Over 50% of the population lives in the five cities viz.,  Vilnius, Kaunas, Klaipėda, Šiauliai and Panevėžys. After moving to Lithuania, you may perhaps live in one of them.
If a foreign national moving to Lithuania is a citizen of a member state of the EU, EEA or the Swiss Confederation, he does not need a visa to go to and stay in the country for 3 months. Stay longer than this necessitates registration with the Migration Department. Time limit set to approve or disapprove a registration request is five working days (one month for family members). The certificate is valid for five years.
Though an EU national does not need a residence permit to enter Lithuania, if he is moving to Lithuania with an idea of working there, he will need this.
If you are moving to Lithuania with such plans, it would be advisable for you to get the contract of employment and also apply for the residence permit before your departure. Persons moving to Lithuania for employment would note that it is the employer's responsibility to apply for a social security number and a tax number for them. If you are moving to Lithuania for self employment, you would perhaps take some local assistance for the purpose.
Those moving to Lithuania with their home country driving licences may need to have it exchanged for a local licence provided Lithuania has an arrangement with your home country for the purpose..
If you are moving to Lithuania with your pet, there should be no problems if the pet has a passport and it can be identified with a microchip and  if there is a document as prescribed showing that vaccination has been done at least 30 days prior to travel.

When you're ready to relocate, click here to book your removal to Lithuania.
The currency of Lithuania goes by the name, Lithuanian Litas  with the short form LTL. LTL is pegged to the Euro at 3.4528 LTL per Euro. Though credit cards are generally accepted, people moving to Lithuania find it more convenient to transact in LTL.